Range of Products
If you are searching for ayurvedic medicines manufacturers in Mumbai (India), then we are the best company to do business with. We are manufacturing and exporting proprietary medicines, herbal medicines and others. We formulate our range on the basis of ancient Ayurved pharmacopoeias in combination with new techniques and technologies, which allows us to increase their effectiveness in treating various ailments. Also, the formulation area is periodically fumigated with the aim to keeping a tab on pests and microbes. Quality checks are done to ensure zero presence of pathogens. Their packaging is done automatically to keep the ayurvedic medicines, skin care products, herbal cosmetics, proprietary medicines and other products stable for a very long time. It is recommended to keep the lid closed and place them in a cool & dry place.

Ayurvedic Medicines & Classical Text based formulations

Vati Powder, Oils, Avleha, Guggul, Ras-Rasayan

Herbal Products

Single Herb Tablets, Herbal Cosmetics

Proprietary Medicines

Our own formulations for various diseases ez. Diabetes, Arthritis, Psoriasis, Piles, Cholesterol, Obesity, Indigestion, Constipation, etc.
Assured Quality
Shriji Herbal Product is the first company in entire Gujarat for GMP Certification. We are quality conscious and prefer to follow all norms with GMP Standard.
Quality Checks

We have a microbiological, chemical laboratory for quality checking our Ayurvedic Medicines, Proprietary Medicines and other products. There are three stages of checking the quality, first of which includes preliminary tests like taste, odor and color. Second, for tables and pills, physical parameters are checked such as hardness, weight, friability; also disintegration test is done. Lastly, various chemical tests are done to check the acid insoluble ash value, acid value, alcohol soluble extractive, ash value and assay for lead, arsenic, copper, iron, etc.

Our Setup
We have a well equipped manufacturing unit, which is outfitted with the latest manufacturing and processing machines to carry out smooth production

Shriji Herbal Products has a well coordinated management staff, which carries out all the tasks with full dedication

Our manpower includes eminent research personnel, ayurvedic doctors, marketing professionals, quality personnel, research personnel, technicians, engineers amongst others

We are committed to maintain world class quality in our products to keep you away from all kinds of ailment thus ensuring you well being.

Total customer satisfaction has always been our prime concern and we take all measures to ensure the same

The products are packed in effective packagings, ensuring their freshness and increasing their shelf line considerably.
An Overview
There is a close relationship between the Mind and the Body as it has aptly described in the line which stated. " A Healthy Body contains a Healthy Mind" and Vice-Versa. Shriji Herbal Products has come forward as a noted Manufacturer, Exporter and Trader of all kind of Herbal/Ayurvedic formulations. The company has carried forward the occupation of its fore fathers who practiced Ayurveda during the reign of the British Empire.
Our well formulated and effective range of products includes Anti Diabetic, Anti Hypertensive, Herbal Cosmetic Skin care and Hair, Sinusitis, Anti Arthritic, Anti Calculus, and many more. These all are clinically evaluated and tested by Dr. Dilip Trivedi in his Clinic at Borivli Mumbai. A renowned Ayurvedic Physician practicing Ayurveda since 28 years.
We supply an extensive range of Herbal/Ayurvedic products.
Our export is in various countries i.e. Mauritius, USA, Sweden, New Zealand, Czech Republic, Canada and many other countries.
We have our own in house quality control, processing, packing department which takes care at all stages of manufacturing process. The company finds it self successfully moving towards the Pinnacle of Success. The work force exhibits competitive attribute in every sphere of its activity, there by paving wider paths of Success for the Company.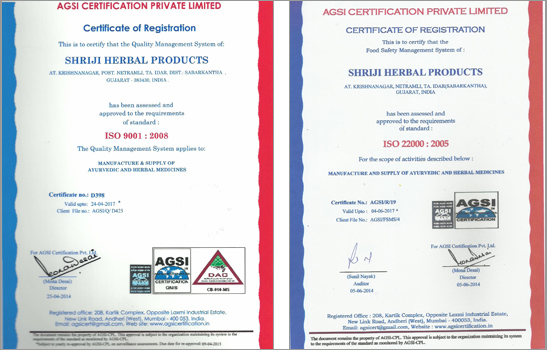 Our company is GMP/ ISO 9001-2008/ ISO -22000:2005 Certified
SHRIJI HERBAL PRODUCTS
1210, Gold Crest Business Park, Opp. Manubhai Jewellers, L.t.road, Borivali West, Mumbai - 400092, Maharashtra, India
Phone : +917042595505
Fax : 91-22-28920783
Mr Jayesh Trivedi (Managing Director)
Mobile : +917042595505